Deaf Rainbow NSW was founded on 23rd March, 1984. The group was created after David London and Stafford Simpson recognised the need for a space specifically for Deaf gays and lesbians in NSW to come together and after much discussion decided to formalise the group.
With the generous financial backing of Paul Brodie (who hosted the first meeting at his house), the group was formed and was originally named "Sydney Harbour Deaf Group". The artwork for the original logo was a collaboration between Stafen Kater and David London.
After a few months, the members decided to change the group's name, and so the Sydney Harbour Deaf Group became known as "Waratah Deaf Association". The first office bearers were David London as the male President and Margaret Steedman as the female President and Steve Ripley held the dual roles of Secretary and Treasurer. The first official function for Waratah Deaf Association was held in Berrima.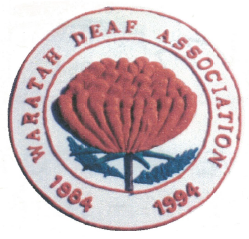 Waratah Deaf Association enjoyed growth in membership and purpose over the years. Attitudes became more liberal as well and on 29 May 1993, it was decided to change the name from Waratah Deaf Association to "Deaf Gay & Lesbian Association of NSW".
On 13 December 2003, DGLA Committee decided they needed a new logo and so they ran a competition for best logo design, which was held at Wayne Turner's house. Peter Goddard's design won 1st prize and the new logo was used for the first time on 6 March 2004 at the Sydney Gay and Lesbian Mardi Gras Parade.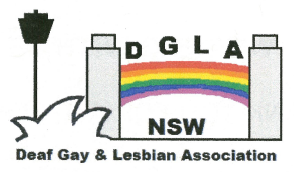 At the AGM in 2018, members voted in favour to change the name of the group to Deaf Rainbow NSW. This change was significant as it meant the group was open to include a diverse range of identities i.e transgender, bisexual, intersex and queers. The original name, by only mentioning gay and lesbian, felt too exclusive and the members wanted to not only show the diversity of membership. The name change also meant the group was known by a shorter and much easier to remember name.
The new logo was designed by Shirley Liu and it is the one currently seen on this website.